EVERGREEN-ENERGY

A Complementary Energy Health Medicine ( ACE HEALTH MEDICINE ) ©
[ * 長 青 * 能量醫護 ] ( © copyright 版權所有 )
Integrative Health : Complementary & Alternative Medicine [CAM] : Integrative Medicine


♠ NUTRITION ♠ :
Nutrition (also called nourishment or aliment) is the provision, to cells and organisms, of the materials necessary (in the form of food) to support life. Many common health problems can be prevented or alleviated with a healthy diet.

The diet of an organism is what it eats, which is largely determined by the perceived palatability of foods. Dietitians are health professionals who specialize in human nutrition, meal planning, economics, and preparation. They are trained to provide safe, evidence-based dietary advice and management to individuals (in health and disease), as well as to institutions. Clinical nutritionists are health professionals who focus more specifically on the role of nutrition in chronic disease, including possible prevention or remediation by addressing nutritional deficiencies before resorting to drugs. While government regulation of the use of this professional title is less universal than for "dietician", the field is supported by many high-level academic programs, up to and including the Doctoral level, and has its own voluntary certification board, professional associations, and peer-reviewed journals, e.g. the American Society for Nutrition and the American Journal of Clinical Nutrition.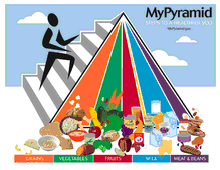 The updated USDA food pyramid, published in 2005, was a general nutrition guide for recommended food consumption for humans.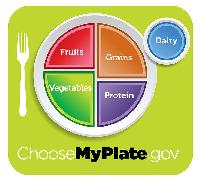 MyPlate is the current nutrition guide published by the United States Department of Agriculture, depicting a place setting with a plate and glass divided into five food groups. It replaced the USDA's MyPyramid guide on June 2, 2011, concluding 19 years of USDA food pyramid diagrams.

In the US, dietitians are registered (RD) or licensed (LD) with the Commission for Dietetic Registration and the American Dietetic Association, and are only able to use the title "dietitian," as described by the business and professions codes of each respective state, when they have met specific educational and experiential prerequisites and passed a national registration or licensure examination, respectively.

In California, registered dietitians must abide by the "Business and Professions Code of Section 2585-2586.8". Anyone may call themselves a nutritionist, including unqualified dietitians, as this term is unregulated. Some states, such as the State of Florida, have begun to include the title "nutritionist" in state licensure requirements. Most governments provide guidance on nutrition, and some also impose mandatory disclosure/labeling requirements for processed food manufacturers and restaurants to assist consumers in complying with such guidance.


||| Going ORGANIC... ||| "Eating the Colors of the Rainbow"|||

||| Food and Drink : for health and as medicine ||| 食補‧食療 |||


[ " Evergreen-Energy" ACE HEALTH MEDICINE ----- * 長 青 * 能量醫護 ] . ( © copyright 版權所有 )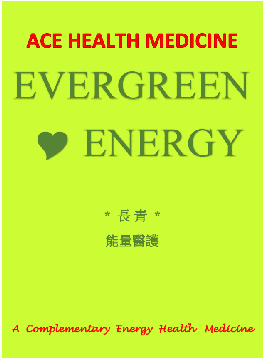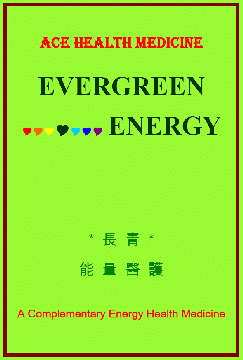 ♥ Evergreen-Energy is "A Complementary Energy Health Medicine" ( ACE HEALTH MEDICINE © copyright ).

♥ Our practices are the ways of integralizing universal energy and individual inner energy; they are of integrative medicine with CAM (Complementary and Alternative Medicine).

♥ Our goal is to achieve integrative energy health of our body, mind and spirit.

| | | |
| --- | --- | --- |
| ¶ Energy Working In & Energy Working Out ¶ | ☺ 內功 外功 ☻ | ☼ 靜功 動功 ☼ |


♥ ♥ ♥ ♥ ♥ ♥ ♥

♥ ♥ ♥ ♥ ♥ ♥ ♥


HOME
[ Evergreen-Energy: ACE Health Medicine]
---